Before scouring Singapore for reliable funeral services, you should consult with your family about funeral arrangements. Having a clear notion of how you will conduct the funeral ceremony should help avoid unexpected costs. Here are five factors to consider when planning a funeral.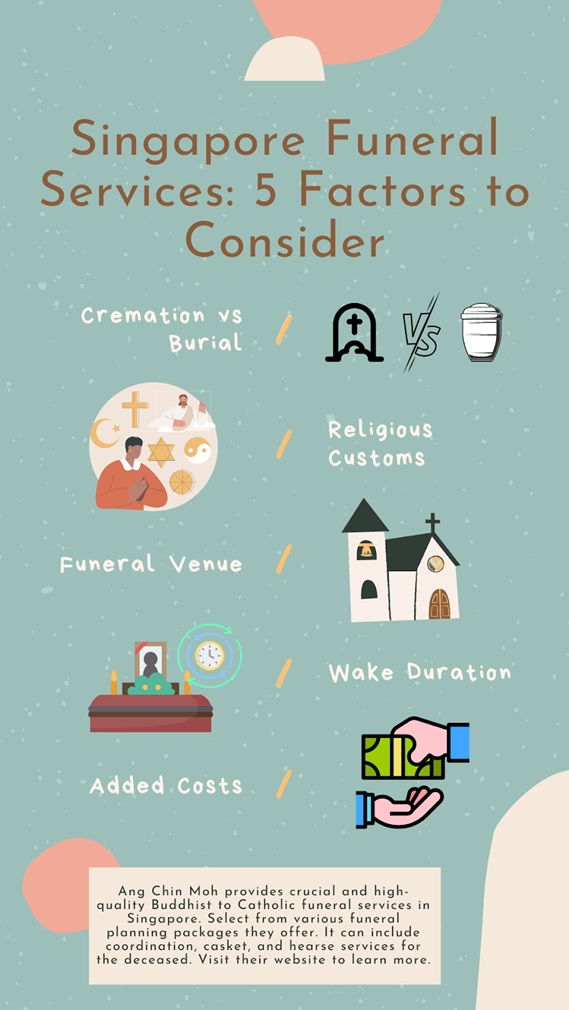 #1 Cremation vs Burial
82% of people prefer cremation due to the burial limit of 15 years. Unless there are compelling religious grounds to the contrary, the bones are then excavated and reburied in smaller plots.
#2 Religious Customs
Religious customs are also a fundamental factor that influences funeral services. Packages differ between a Taoist, Buddhist, Christian or Catholic funeral service in Singapore. You may also be requested to give a small donation or pay a charge for the different prayers and ceremonies performed.
#3 Funeral Venue
Funeral packages do not often include venue rentals. Tentage payments are usually not part of a standard funeral package for Singapore wakes. Given that HDB houses a large portion of the population, most funerals are held in HDB void decks.
#4 Wake Duration
The family must decide the length of the wake. Funerals take heavy influence from religious practices and the desires of the departed and their family. A three-day funeral package in Singapore can cost less than $4,000, while a five-day package can cost close to $8,000.
#5 Added Costs
Typical packages are targeted towards HDB void decks and include embalming, coffin, tent, tables, chairs, lighting, fans, seating, and toilet hire. Refreshments and food often account for a large percentage of the additional expenditures. Most funeral service providers or directors will give you a list of approved vendors. However, you are free to choose other vendors.
Ang Chin Moh provides crucial and high-quality Buddhist to Catholic funeral services in Singapore. Select from various funeral planning packages they offer. It can include coordination, casket, and hearse services for the deceased. Visit their website to learn more.